About Mobile Hymns
Legible, audible sheet music. Sing skillfully to the Lord!
---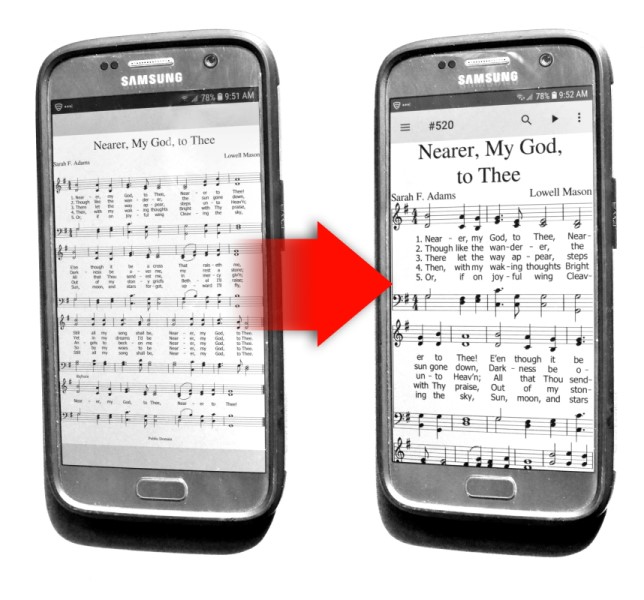 How is Mobile Hymns different from other hymn sites?
When you need sheet music right now, Mobile Hymns is the fastest way to get it.
Mobile Hymns' large-print sheet music is comfortable to see from any mobile device.
Whatever format you need, Mobile Hymns has it: web page, PDF, PowerPoint, MP3, and Android app.
Can I get songs under copyright on Mobile Hymns?
Subscribers can access any song they have permission to use. Mobile Hymns is compatible with CCLI numbers and hymnals.
Do I need to subscribe to benefit from Mobile Hymns?
No, Mobile Hymns provides large-print sheet music, PDF's, sheet music slides, MP3's, and information for hundreds of songs online.
What benefits does Mobile Hymns for Android have?
App users can choose to have the sheet music auto scroll with or without the music playing.
App users can bookmark their favorite songs and access song viewing history.
App users can swipe left and right to browse hymns.
App users can create and share custom orders of services and playlists.
Users of the free Mobile Hymns Viewer app can view custom lists you create.
Your purchase supports the cost of maintaining this site.
Why should I become a subscriber?
Mobile Hymns fills in the accessibility gaps for both large and small institutions.

If your church uses a projector, Mobile Hymns provides access to the order of service and sheet music for online streamers, for the visually impaired, and for people outside of the auditorium.
For small groups, retreats, and Bible studies, Mobile Hymns lets you distribute electronic orders of service and sheet music to anyone with a mobile device.

Your subscription supports the cost of maintaining this site.
PowerPoint Slides
Customize the provided PowerPoint slides as you see fit. Contact us with any requests or suggestions.
Sections
Mobile Hymns is arranged by sections:
Special Thanks
This site appreciates the work of various existing hymn resources:
Contact