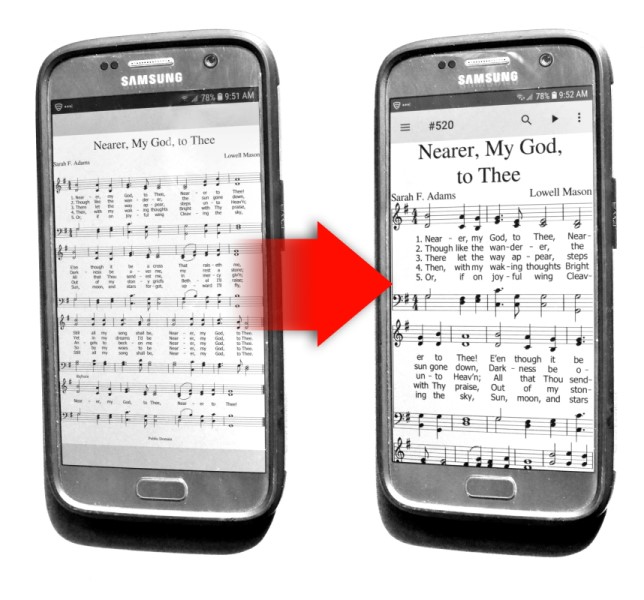 Join the Pilot Program
Mobile Hymns is currently offering a pilot program that provides free playlists and worship service orders.
Why should I become a subscriber?
Mobile Hymns fills in the accessibility gaps for both large and small institutions.
If your church uses a projector, Mobile Hymns provides access to the order of service and sheet music for online streamers, for the visually impaired, and for people outside of the auditorium.
For small groups, retreats, and Bible studies, Mobile Hymns lets you distribute electronic orders of service and sheet music to anyone with a mobile device.
Your subscription supports the cost of maintaining this site.
Package Features
Up to 5 custom Mobile Hymns lists per week



Lists can include any combination of sheet music and text (announcements, Bible passages, words for offertories, or schedules).


Mobile Hymns lists can be accessed from any device with an internet connection.



A permanent service index page for your institution at mobilehymns.org (For example, mobilehymns.org/dabc/)


CCLI compatibility


Expedited responses to requests for new songs


Sheet music in any format you need:

Regular, landscape, and large-print sheet music


PowerPoint slides with sheet music


Printable PDF's


Audio playback with variable speed


Hymn information — title, key signature, copyright information, writer, composer, and lyrics — in easy copy-paste format
Terms and Conditions
Benefits last for 2 months after enrollment.


Afterwards, institutions may become subscribers for $5 a month or $50 a year.
Creating a digital worship service order or playlist is simple:
Choose a short, memorable ID for your institution. For example: "DABC"


A few days before each service or event, list your service order in a document or using Android app (video demo).


Email your list to Mobile Hymns.


You're all set! View your list on Mobile Hymns' website with the name you chose. For example: mobilehymns.org/dabc/
Contact us for more information.